Rockingham's Garden Equipment Centre
Coastline Mowers is Rockingham's premier garden machinery center with one of the largest floor displays of garden equipment in Western Australia.
With over 35 years of experience, the Coastline Mowers team can help you find the exact piece of garden equipment you need to get the job done.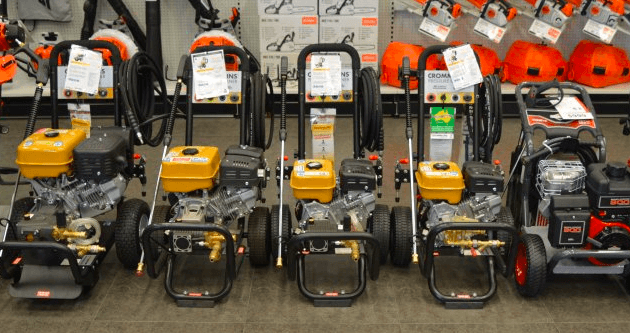 Our Machines Come Fully Assembled, Tested, and Ready to Go
Whether you run a lawn mowing business or professional landscaping company, need garden equipment for your home or property, or work as an arborist or council gardener, you're sure to find the equipment you need at Coastline Mowers. No hard sales, just friendly, professional, and knowledgeable staff. Plus, all our machines are run and tested before they leave our store, so you can buy with confidence.
We Service What We Sell
At Coastline Mowers, we understand our customers want power equipment that is built to last. That is why we only sell high-quality garden products that can be serviced at our Rockingham workshop. Every product we sell is also guaranteed to have spare parts available for at least ten years. With over 6,000 items available at our center, we're sure to have the garden equipment, parts, and accessories you need.
Our product range includes:
Arborist Climbing Lines
Blowers
Brush Cutters
Chainsaws
Climbing Harnesses
Climbing Saddles
Commercial Machinery
Cut Quicks
Domestic Machinery
Generators
Hoes
Indoor Vacuums
Lawn Edgers
Lawn Mowers
Line Trimmers
Mower Attachments
Outdoor Vacuums
Petrol Power Products
Petrol Pressure Washers
Polesaws
Pruners
Pressure Cleaners
Ride-On Mowers
Spare Parts
Spraying Equipment
Tillers
Tree Climbing Equipment
Trimmers
Walk Out-Front Mowers
Zero Turn Mowers
We are stockists of: Bob-Cat Zero Turn Mowers, Walker Mowers, MTD Mowers, Cub Cadet Ride-On Mowers, Victa Mowers, Rover Mowers and Ride-Ons, Cox Ride-Ons, Masport Mowers, Stihl Garden Tools, Little Wonder Vacuums and Blowers, Yamaha Generators, Pro Max Generators, Briggs and Stratton Pressure Cleaners, Solo Spraying Equipment, Buckingham Climbing Gear, and more.
Garden Equipment Service & Repairs in Rockingham
Coastline Mowers employs 10 highly knowledgeable staff members, including five trade technicians who are fully qualified to repair all quality garden equipment brands. We repair lawnmowers, chainsaws, brush-cutters, cut-quicks, petrol pressure washers, ride-on mowers, and generators. Small petrol powered products and mower blade sharpening are our specialty. Plus, all repair work is covered by our 3-month full warranty.
Coastline Mowers is open Monday to Friday from 8.00am – 5.00pm and Saturday from 8.00am – 12noon. We are located at 3 Nasmyth Road, Rockingham. For further information, email tim@coastlinemowers.com.au or phone (08) 9528 7111.